Below are the accounts of some of the internship experiences of students in the program. If you would like to include your experience here, please contact Professor Francine McKenzie.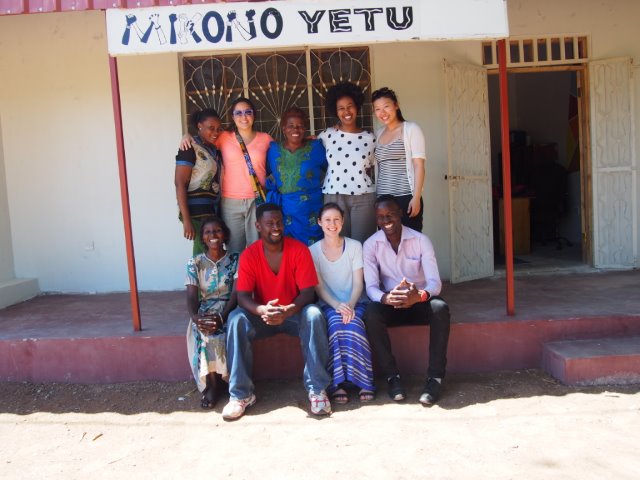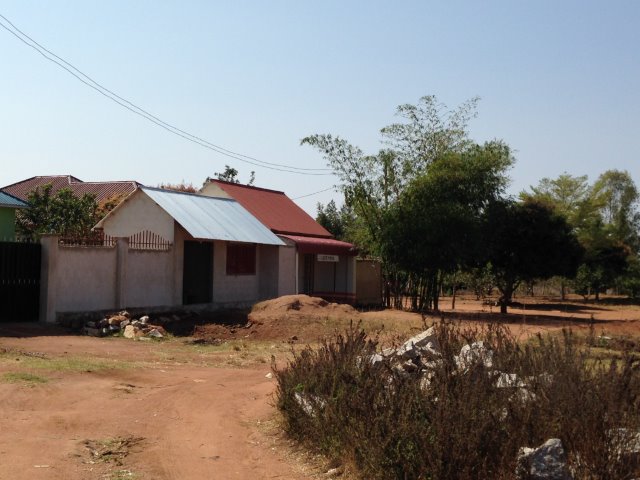 This past summer I travelled to Mwanza, Tanzania for a three-month internship through Western Heads East. Western Heads East is a Western-based organization that partners with organizations and individuals in Tanzania, Kenya, and Rwanda. Using probiotics that were developed by researchers at Western, WHE uses probiotic yogurt enterprises to empower women and improve the health of whole communities. I interned with a women's empowerment NGO called MikonoYetu. MikonoYetu is a Mwanza-based organization that asked WHE for a student intern to collaborate with. Partnering with MikonoYetu and the Tanzanian staff there, I helped brainstorm and create resources for a fundraising event for a women's history museum that my supervisor's been working on for a few years. I also conducted qualitative research, facilitating interviews with women who had been economically empowered through skills training, small loans, and business knowledge. I collaborated with two Tanzanian women who were fluent in both English and Swahili to accomplish these interviews, and then took the English notes and wrote case studies. The case studies are being used by MikonoYetu for research purposes to understand how to better help women suffering from domestic violence. Being in International Relations, international experiences are crucial not only for personal growth but also to help apply critical thinking skills to real-life situations and cross-cultural collaborations. I learned so much by being open to a different culture with so much to offer, and being immersed in Mwanza for three months allowed me to become more familiar with the language and the people I interacted with daily.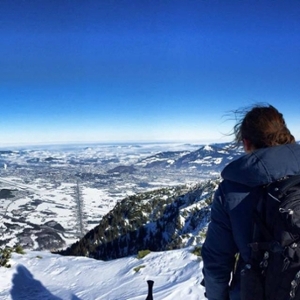 Between January and April 2015, I worked as the Development Intern for Salzburg Global Seminar - an international non-governmental organization based at the majestic Schloss Leopoldskron in Salzburg, Austria – a town famous for Mozart, the Sound of Music, and its picturesque landscape. Originally founded in 1947, as a "Marshall Plan of the Mind" to encourage the revival of intellectualism in post-war Europe, Salzburg Global Seminar is now a global hub whose mission is to "challenge current and future leaders to solve issues of global concern." Over the span of three months, I had the opportunity to contribute to this mission helping the organization identify, fund, and convene established scholars, social entrepreneurs, cultural innovators, and emerging leaders engaged in critical issues such as education, health, environment, economics, governance, and peace-building.
Working as the Development Intern, my primary duties included assisting the Development Team with research on potential institutional and individual donors; drafting program related concept notes and assisting in the development of proposals; reviewing and editing concept papers for clarity; and writing briefings to prepare executives for outside calls and meetings. I worked both independently and collaboratively in a fast-paced environment with rapidly shifting priorities, with people in different time zones, from diverse cultural backgrounds and at all levels of the organization, including senior executives, in a creative, but formal and professional environment.
In addition to working with the Development Team, I also assisted the Program Team in organizing and ensuring that the Seminar's sessions proceeded smoothly. During my three month internship, I participated in two core sessions: one on the neuroscience of art and the origin/meaning of creativity and another on the future of health care in an era of 'Big Data'. It was an unforgettable and invaluable experience participating in the Seminar's core sessions. Having the opportunity to converse, collaborate, challenge and be challenged by intellectuals, artists, business professionals, technical experts, and public officials from every major region of the world was an edifying experience. In addition to revolutionizing my professional network, I also made close friendships with several Salzburg Fellows and staff members that I will cherish throughout my life.
My internship at Salzburg Global Seminar was one of the most formative experiences of my life because it forced me to revaluate my own assumptions about the world, consider new ideas and perspectives, and allowed me to utilize the knowledge and refine the skills learned over the course of my undergraduate studies in international relations.
Salzburg Global Seminar conducts a number of three-month internships in both Washington D.C. and Salzburg throughout the year. I would recommend any student interested in international relations and global affairs to apply to this unique and exciting opportunity.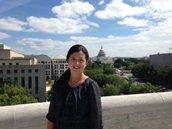 An internship is an excellent stepping-stone for students as they transition from university into the professional world.  Naturally I jumped at the chance, when offered, to participate in the internship program at the Canadian Embassy in Washington D.C.  What better place to learn about diplomacy and international relations than at an embassy in a city that is renowned as a global hub for international affairs and diplomacy.
I had identified Events Production as my area of interest and was very fortunate to be hired on as an intern in this department.  Two of the Embassy's key mandates in Washington are to promote Canadian interests and strengthen Canada's relations with the United States. Hosting events at the Embassy is one way of achieving this. One of the highlights of working as an events production intern is that you interact with many different departments at the Embassy.  This helped me understand how an Embassy functions internally and the role of each department.
As the events intern, you are really in tune with what is happening at the Embassy since the Events Department is involved in facilitating all Embassy events.  The Embassy has a full calendar each month so the Events Department is a very busy and exciting place to work.  Some of my responsibilities included the designing and printing of all printed material for events, and liaising with catering, logistics, security and reprographics.  My organizational, planning, time management and communication skills were continuously put to use.  My experience as an events production intern was very rewarding.
The Canadian Embassy was an extraordinary place to work.  The Embassy staff welcomed the interns as soon as we arrived and made us feel right at home from the first day.  Going to work everyday in a building that is situated in the heart of Washington on Pennsylvania Avenue just down the road from Capitol Hill is very special.  I was fortunate to meet a wonderful group of interns who will remain lifelong friends.  Together, we explored and got to know Washington, which is a vibrant, beautiful city with much to offer. I am thankful to have had the opportunity to participate in this internship program.  I would encourage all IR grads to consider applying.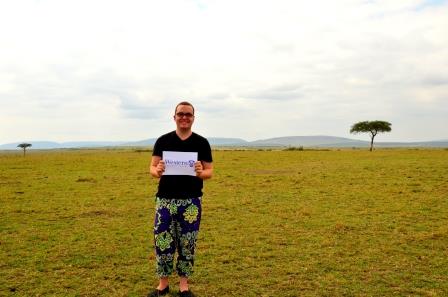 Prior to my internship, I never would have believed I would be tasked with the international business development of a Nairobi start-up; negotiating with clients from Toronto, to Cape Town to Melbourne all the while taking in the rugged beauty of Kenya.
Taking place over nearly four months in the summer of 2014, my internship with Vava Coffee Limited in Nairobi, Kenya as part of the Ontario Global Edge Internship Program (OGE) was nothing less than a life-changing experience. This amazing opportunity allowed me to supplement my academic knowledge, gain practical skills, enhance my professional development, thrive in a vibrant culture and push the limits of my comfort zone.
During my time as Business Development Assistant, I was treated as an equal in the business and was responsible for direct sales strategy, guerrilla and social media marketing, grant writing, funding strategies, events planning and management, direct client relations, creative development, market research and media relations. This fulfilling experience likewise allowed me to meet leading industry professionals and interact with Vava Coffee's global partners.
Without a doubt, my OGE internship was the most rewarding and engaging experience of my life. I would strongly encourage future students to research this amazing opportunity to learn more about the various businesses and destinations it can take you and your professional career.
"Heri kufa macho kuliko kufa moyo"
In the summer of 2012, after getting in contact with one of my History professors, I was able to intern at TakingITGlobal, an online social hub and charitable NGO based in Toronto that focused on engaging with young leaders worldwide. This was a phenomenal opportunity that allowed me to work in the capacity of a research assistant under TIG's Director of Operations, providing reports and white papers for a project called YouthMovements, a collaborative programme that connects, supports and maps youth-led and youth-serving projects. The topics I researched and wrote about concerned all sorts of interesting themes: bridging the Digital Divide, trends in the not-for profit sector in relation to the financial crisis, and mentorship and collaboration models.
During the summer, I immersed in an AIESEC community development internship in the Bashkir region of Russia, working with a team of international youth on a tourism project, sponsored by Google and the Federal Youth Affairs Ministry. As part of my internship, I visited museums and historic sites, attended a conference in Moscow concerning 'Modern Russia', organized youth panels, and met with state ministers to garner knowledge on Russia and the prospects for its growth as a BRIC country. Together with my team, I worked on a campaign to showcase the best of Russia as a country with a rising education, economic and business sector, as well as many opportunities for travelling and cultural immersion.
Internships allow IR students – or for any student for that matter – to gain key insight into the world of work, explore vocation, and participate ins ervice leadership. My personal experiences have involved more of a patchwork of opportunities that I chose to get involved in; either because they simply interested me, challenged my thinking or because I thought they would best help me in preparation for my road beyond my student life at Western. Altogether, these experiences, both locally and abroad, have contributed something very special and meaningful to my personal education and growth .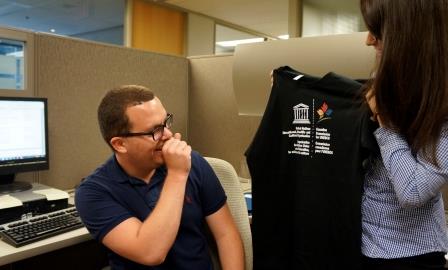 This past summer I was fortunate enough to gain a summer student position with the Canadian Commission for UNESCO (United Nations Educational, Scientific and Cultural Association) in Ottawa. Working primarily with the Natural Sciences and Public Affairs Officers, my time at the Commission was split between two very different, interesting fields.
Working with the Natural Sciences Officer, I helped develop the international Man and the Biosphere Conference (EuroMAB 2013) taking place in the Frontenac Arch Biosphere Reserve in Brockville, Ontario in October of 2013. This international conference brings together local populations, organizations, academics, varying levels of government and the private sector to share knowledge and practical lessons in implementing conservation and sustainability practices. Additionally, I served as the lead information-manager for the Commission's publication "Learning from Each Other: Proven Good Practices in Canadian Biosphere Reserves". In the process, I subsequently worked directly with Canadian Biosphere Reserves, national partners, translation services and the graphic design team. My time spent working with the Public Affairs Officer was equally fulfilling and provided me with the incredible communication tools. Among others, some of my tasks included researching and developing a social media policy, contacting human rights advocate Malala Yousafzai and developing a collaborative partnership between the Commission and the 2015 Toronto Pan American Games Youth Advisory Council.
Overall, my time at the Canadian Commission for UNESCO was an incredible experience. Being exposed to an international environment of this grandeur allowed me to utilize my education to communicate global initiatives while engaging with local actors within Canada. I have no doubt this experience will help me achieve my future endeavours both academically and professionally.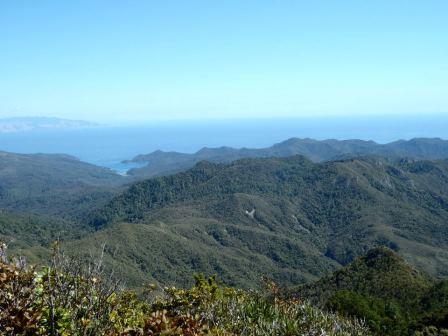 In the winter of 2013 I was lucky enough to find an internship position in New Zealand at the Department of Conservation.  I am interested in environmental management and so this was an ideal opportunity to learn more.  I was placed in the Glenfern Bird Sanctuary on an isolated island off the coast of Auckland. This placement gave me valuable insight into the functioning of non-profit organizations and the challenges they face. I took part in both field and office work; I worked on numerous grant applications and entered pages of data and tramped through vine filled jungles in an effort to monitor endangered bird species. While I was there, the Glenfern Bird Sanctuary was doing interesting research regarding the reintegration of the North Island Robin; due to predation, the North Island Robin had been extinct from the island for almost a decade. The sanctuary also monitored the breeding success of the Black and Cook's Petrels, a vulnerable seabird that has become endangered in recent years.  The sanctuary also had to raise funds through education presentations and sanctuary tours. It was an amazing experience to work with passionate people in a beautiful location, to learn more about the realities of environmental stewardship, and to acquire new skills.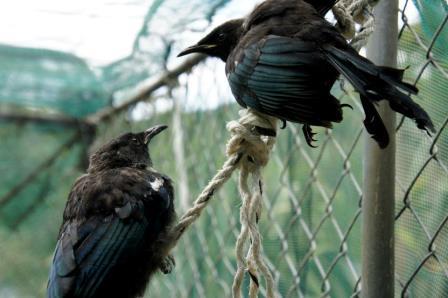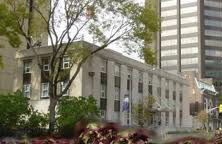 "I work with the US Department of State," were words that I never thought would ever come out of my mouth.
Over the course of the last six months, I have been employed as Political/Economic Intern at the U.S. Consulate Office in Toronto. The work that I have completed has ranged from issues of energy security to provincial policy analysis. Since Consulate Offices are located provincially, the Political/Economic department is largely focused on producing situational awareness reports. Constructing 'diplomatic cables', as they are called, involves being attentive to all issues that are taking place within Ontario that are relevant to U.S. interests. I have had the experience of crafting several cables during my time, some of which were directly mandated by the State Department in Washington. Although, I am not at liberty to discuss specific issues or the extent of my research, I promise you that having a hand in informing the U.S. government has been quite the experience.
During my time as a Political/Economic Intern, I have been provided with many different opportunities. My superiors would send me to different conferences and events that were taking place around Toronto in order to gain greater insight into specific industries, subjects or sectors. I also had the opportunity to attend roundtable discussions and outreach tours with the U.S. Consul General Jim Dickmeyer. This involved travelling to different parts of Ontario to meet with municipal and provincial government officials, as well as industry and business executives.
The U.S. Consulate in Toronto is actively hiring students in a range of different departments throughout the year. The different departments include Consular, Political/Economic, Public Affairs, and Foreign Commercial Service. The Consular sections is interested in students that have at least two-years of University experience, while Political/Economy and Public Affairs prefer students entering their fourth year of study. These internships are contingent upon students returning to school after the completion of their four months. Foreign Commercial Service, alternatively, is a six-month internship that is well focused on trade and business development between Canada and the United States. Something to keep in mind is that Foreign Commercial Service is open to students who have just graduated.

Currently, I am still working with the Consulate's Political/Economic department as a part-time intern. Since graduating from Western's International Relation's program in April, I have begun my Masters of Global Affairs program at the University of Toronto. Being able to travel back and forth between work and school has been difficult, but a challenge that I have enjoyed. The people that I have met and the experiences that I have had will stick with me for life.
I encourage all Western International Relation's students to apply for one of these positions. I promise you that the skills you develop as an IR undergraduate will not only be well utilized, but enhanced. http://toronto.usconsulate.gov/about-us/internship-opportunities.html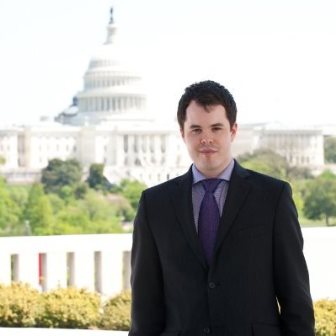 Nothing I've experienced has been more surreal than standing on the roof of the Canadian embassy in Washington DC, watching the sun rise over the Capitol on the morning of President
Obama's second inauguration. The eighteen-hour day that followed took me from the Ambassador's top-floor party to the parade and festivities on the street below, and then out long into the night with a group of other young professionals and students who would become some of my best friends over the next four months. This was my first week on the job as an embassy intern.
Unbeknownst to many young scholars, Canada's largest embassy in the world recruits a group of twenty students and recent graduates three times a year for a four month internship program. From my own posting in media relations to others in economics, environment, military, and more, interns become an integral part of the embassy's day-to-day operations. You don't have time for serving coffee, either; the work is challenging and consequential, and there is an immediate sense of being relied upon. On any given day you might find yourself at a Supreme Court hearing, reporting firsthand from a protest on the Hill, sitting in Canada's seat at the OAS while Ban Ki-Moon gives a speech, or in front of a news camera while the station director radios for you to stop squinting at the lights. Now we're into week two!
In all seriousness, I can't fully describe what an amazing opportunity it is to work at the embassy. You have the chance to gain lifelong friends, make invaluable professional contacts, and see if public service is a path you might ultimately want to pursue. To top it off, DC is an incredibly fun city full of learning, culture, nightlife, and thousands of other like-minded young people to enjoy it with. I simply said 'yes' to every opportunity that came my way, and as a result my four months were filled with some of my most unique and engaging experiences so far.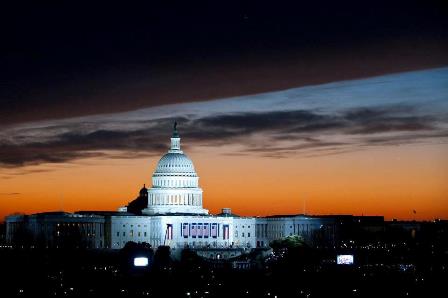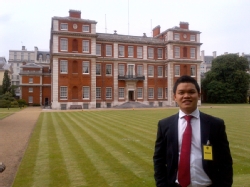 After I graduated from the IR program at Western in June 2011, I decided to pack my bags not for home, but rather for a transatlantic move to the "real" London in the UK. After all, I said to myself, I could hardly call myself an international relations student without having substantially experienced anything outside of Canada. I initially landed myself in the UK because of a Master's program I had decided to pursue. I came back to Canada with that and a thoroughly rewarding internship experience at the Canadian High Commission in London.
With an MSc program at University College London that had coursework from September 2011 to April 2012, I was able to neatly fit in a paid internship with the Department of Foreign Affairs and International Trade (DFAIT) from May to July 2012. At the Canadian High Commission, I worked out of the Political Affairs section, the unit largely responsible for what we IR students might consider "traditional diplomacy."  My core duties involved conducting a media scan three times a week for relevant articles and a think tank scan once a week to identify conferences or lectures of particular interest to us as Canadians. I attended many of these think tank events at reputable institutions such as Chatham House and the International Institute for Strategic Studies, covering a wide range of topics including police reform, the future of the EU, climate change, international security, the Arms Trade Treaty, and UK foreign policy. At the conclusion of these seminars, I drafted reports that would eventually be sent to Ottawa for the reference of policy-makers.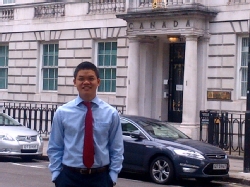 During my time with Political Affairs, I was also assigned to assist the foreign service officer handling the Commonwealth file. As this international organization is headquartered in London and undergoing a period of strategic change, it was certainly a busy desk to cover. I vividly remember attending a Commonwealth meeting chaired by Australian Foreign Minister Bob Carr with the Canadian contingent led by Senator Hugh Segal, Special Envoy for Commonwealth Renewal, amidst dozens of other delegations gathered together at Marlborough House, the home of the Commonwealth Secretariat. The highlight of my internship was when I was involved in preparations for the Prime Minister's and Governor-General's visits to London to celebrate the Queen's Diamond Jubilee! Needless to say, I found myself learning as much, if not more, during my three-month internship than I did during the course of my Master's program.
I'm back in Canada now and working as a Senior Immigration Officer at the Department of Citizenship and Immigration Canada (CIC). Here, I assess humanitarian cases, often involving countries of origin where there may be civil strife, terrorist cells, rampant gang violence, and natural disasters, among others. While much of my time is spent on individual casework, my job also involves extensive research into the current conditions of foreign countries, be it regarding their human rights mechanisms or their justice system. What I've learned from both CIC and DFAIT is that work with an international and global outreach can be achieved both at home and abroad.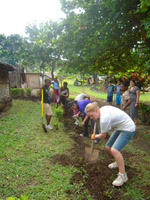 This summer I had the opportunity to travel to Vanuatu as part of a 6 week placement with Youth Challenge International (YCI). The project involved working with youths from Canada, Australia, and Vanuatu to support a community- initiated development project. The project involved establishing a running water system in a rural village on one of the remote islands of Vanuatu. We helped to construct a water tank site, digging taps, and showers, and trenches for the pipes throughout the village and its surroundings. Apart from this main initiative, we also had the opportunity to organize small team workshops on pertinent issues such as gender equality, drug and alcohol awareness, and youth empowerment.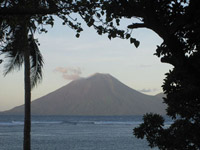 My interest in the field of International Development was awakened by a 3rd year politics class offered in the International Relations module on International Human Rights. Moreover, I wanted to apply the theory I was learning in class with hands on experience. This volunteer opportunity has helped me get a firmer grasp on some of the issues I have studied and identify an area where I can apply my degree in International Relations.
I primarily work out of my MPP's community office but I make frequent trips to Queen's Park for meetings. I work closely with Constituency Assistants, Ministry Liaisons, Legislative Assistants, and our OLIP Intern. I deal with a lot of case work from constituents, study Bills and organize information regarding my MPP's position on certain Bills.
Many interns go on to work for Ministries in more permanent positions and other government positions.
It is a wonderful experience and I work very hard on some very difficult issues. I know it will be a beneficial experience and I plan on using everything I've learned when I (hopefully) pursue my MA degrees.
I was fortunate enough in the summer of 2010 to complete an internship with the Center for Security Sector Management (CSSM), in Shrivenham England. I wrote and defended my research paper on the "Applicability of Human Rights Law in the Field of Conflict", as well as doing research for an IGO and NGO consultant on such topics as SSR's and M&E programs. This was one of the best experiences of my life, not only for the academic and networking benefits but also for the experience of working in a different country and understanding the realities of pursuing a career in Stabilization. Cranfield University, where CSSM is located, is a graduate university as well as an army base. I attended some lectures and wrote briefs for my colleagues when we had special quests. I was able to meet senior military officials from around the world, as well as discuss my paper and theories with retired army officials, professors, and international lawyers.
I obtained this position through persistence and my academic ambitions and accomplishments. My honors degree in International Relations made me a prime candidate for such a position. Over-all I consider myself extremely fortunate for having had the opportunity to complete this internship. I highly recommend students in the International Relations program to seek out a volunteer or internship position. It will not only help you find direction, but will also give you some necessary field experience that will help to build your future.
This past summer I participated in a community development project with Youth Challenge International for 8 weeks in Zanzibar, Tanzania. Working alongside both Canadian and American volunteers, we addressed a variety of issues that impact youths living in Zanzibar, such as unemployment, gender inequality, drug abuse, and environmental decline. With considerable liberty from YCI, we were able to develop and implement a number of successful initiatives, including a 3-day workshop on small enterprise development, youth career development classes, and professional communications seminars aimed to increase the organizational capacity of local NGOs. In conjunction with a local poverty organization, we held a number of community-wide health and environment days to increase community knowledge of water-borne infectious diseases, like cholera, and proper waste management and composting techniques. With an eye to maintaining the progress made and continuing education in the community after our departure, we created a youth environment club and imparted them with the necessary skills and knowledge to continue these initiatives.
Aside from a beautiful part of the world in which to spend the summer, the project in Zanzibar was an invaluable experience in one of the many applications of an international relations degree. It gave me an opportunity to witness and to be directly impacted by the implications not just of an underdeveloped society but also a Muslim society. Mastering the art of a bucket shower, and learning how to wear a hijab, are just a few of many lessons that will have a continuing impact on my global perspective.
During the summer of 2009, following my second year at UWO, I had the opportunity to pursue an internship with the non-profit organization Falling Whistles. Based in California, this organization campaigns for peace in the Democratic Republic of Congo (DRC) through developing advocacy initiatives as well as partnering with local Congolese leaders to rehabilitate those affected by war, particularly former child soldiers. For three months, I worked in close quarters with nine other interns from all over North America at the Falling Whistles headquarters in Venice, California – at the time, simply a garage-turned-office. As a member of the first intern class, I was entrusted with a great degree of responsibility, a fact that I very much welcomed. The tasks I completed were vast and varied, the most daunting of which was to research and attempt to describe, in elementary terms, the complex history of the DRC. Apart from this, I contributed to efforts such as organizing fundraising initiatives, seeking out local Congolese organizations, as well as reaching out to students, government officials, and others around the world.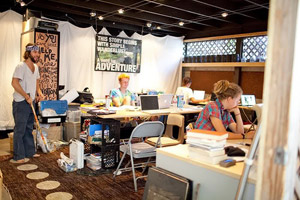 Both my decision to seek an internship at Falling Whistles as well as my ability to obtain a position at the organization were directly impacted by my studies in the field of international relations. As I delved further into my degree, I learned more about the grave human rights violations that occur around the world each day and became familiar with crises that are often underreported in mainstream media, such as the events in the DRC. Without a background in international relations, even the task of beginning to understand the complexities of the conflict in the DRC would be near impossible – a fact I believe the entire International Relations Class of 2011, which completed a group project on the DRC, can attest to. Encouraged by my studies, my opportunity at Falling Whistles taught me the importance of transforming convictions into action, a lesson I hope to take along with me as I plan to pursue further studies at a graduate level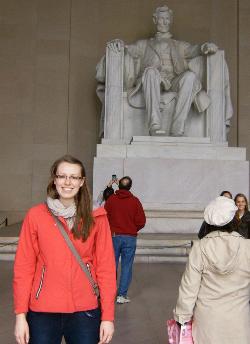 I graduated from the International Relations program at Western in 2010 and just finished a four month long internship with the Permanent Mission of Canada to the Organization of American States (OAS) at the Embassy of Canada in Washington D.C. With the Embassy I was able to attend a number think tank events that Washington has to offer, witness international multilateral diplocacy first hand at the OAS, and make contributions to current government policy and high level briefing.  It was an amazing experience that I highly recommend to current or recent graduates who would like to get some insight into possible future career paths or gain some real world experience to complement their education.